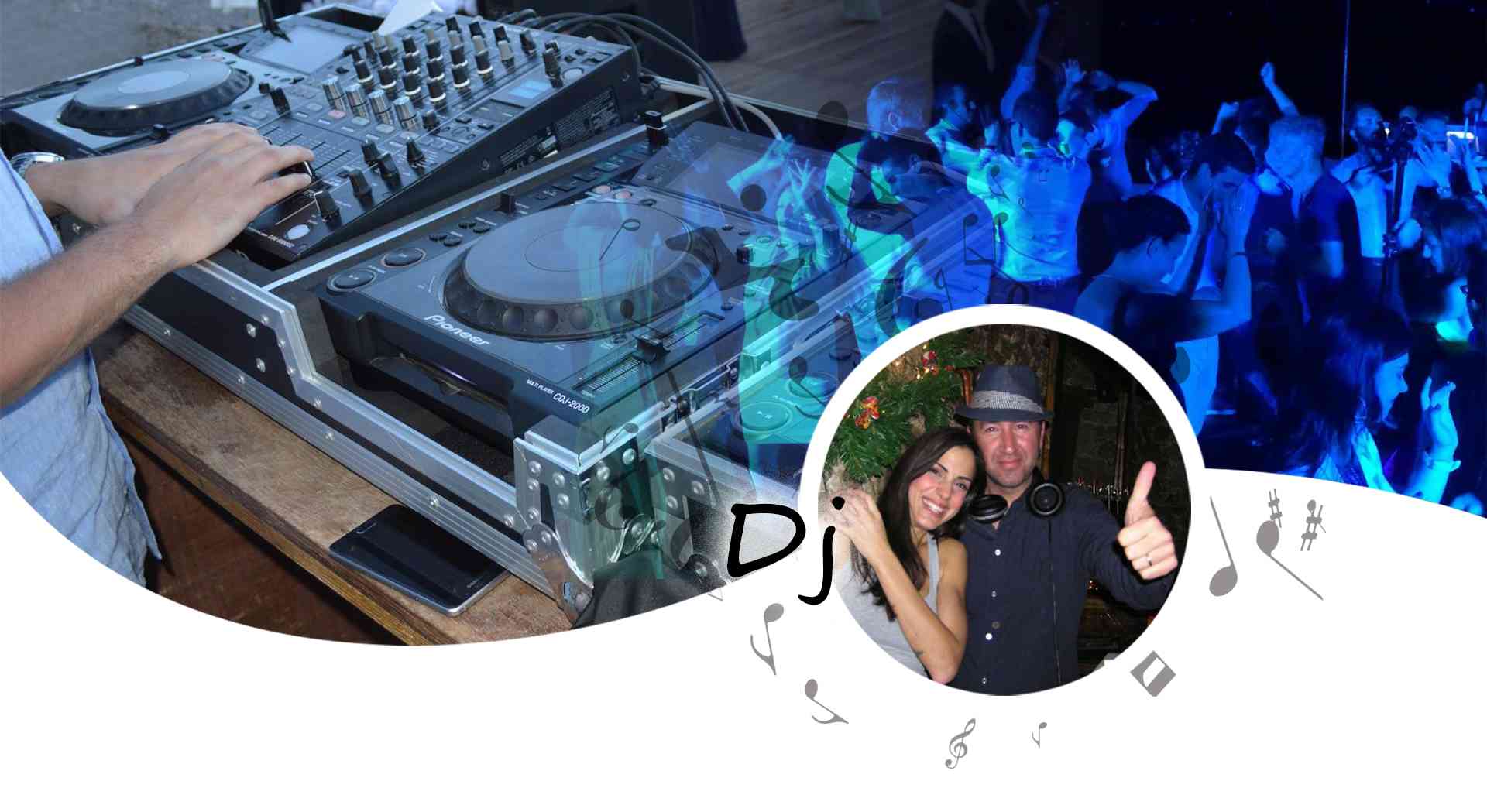 ARE YOU LOOKING FOR THE BEST WEDDING DJ IN GREECE....?

AMONG ALL AVAILABLE DJS......CHOOSE FUN !!!!

MEET DJ GIORGIO MISSIRLIS...... AND YOUR PARTY WILL GO SKYROCKET......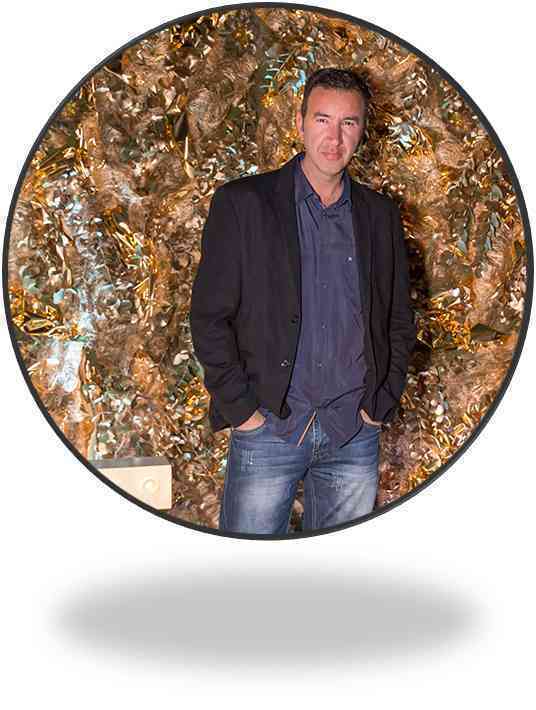 WHO IS GIORGIO...
Born in Athens on December 17, 1973 He started playing music at the age of 15 mainly at private school parties. At the age of 18 he moved to Italy to study and there he discovered the greatness of the dance music scene.....
When he returned to Greece after 4 years with an electronic degree he preferred to follow the path of his heart ..... To be a professional dj for life. It has been established over the last 15 years as one of the most experienced wedding party disc jockeys and alongside its partners are considering as one of the most experienced Dj team for destination weddings in Greece.
He speaks fluently Greek, English and Italian of course but his music variety can cover weddings from all over the world.
You are not Hiring a wedding Dj.... You are hiring a
wedding party experience ......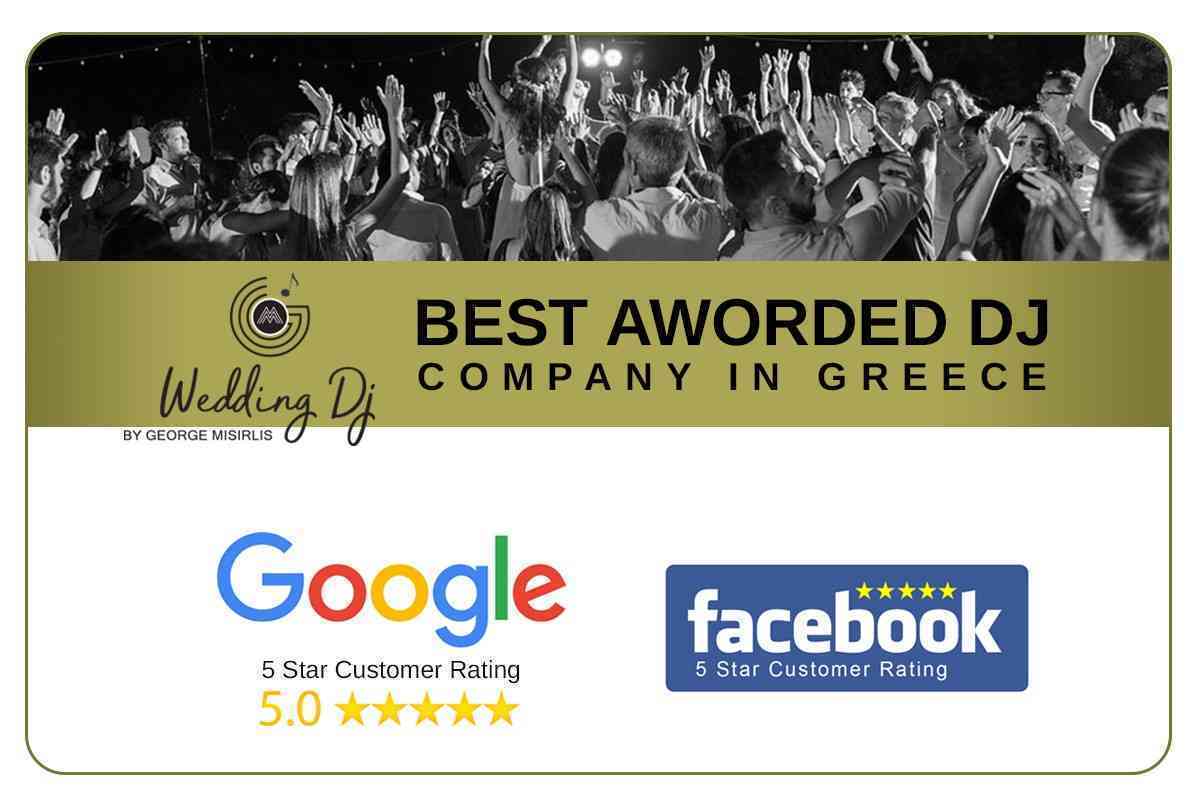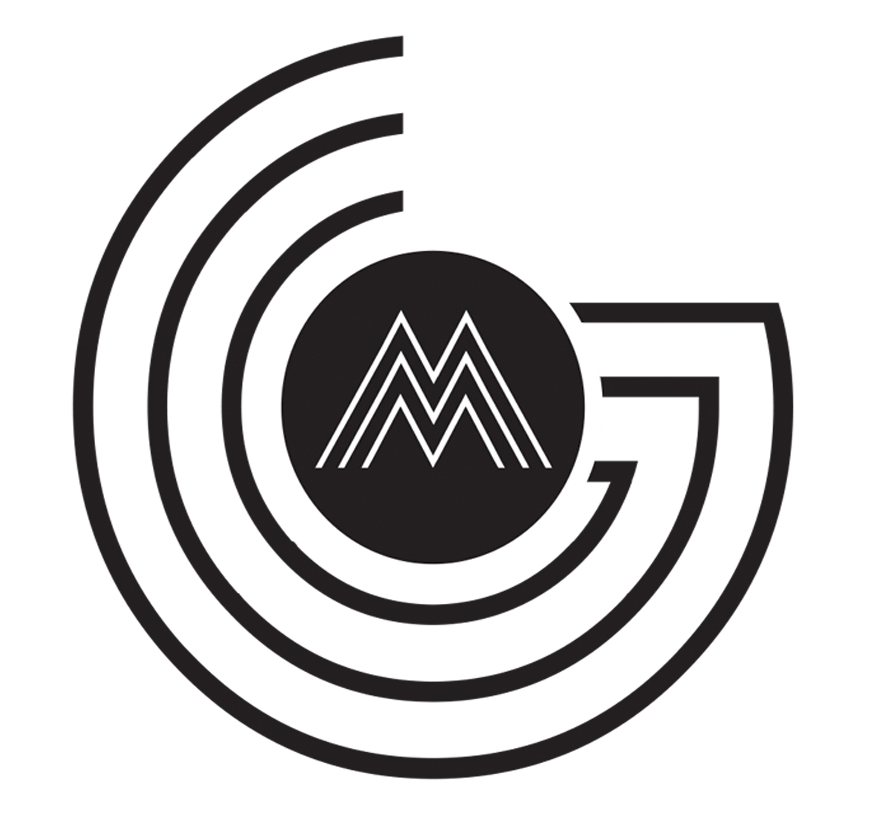 - WE LOVE TRAVELLING -
Wherever you choose to have your destination wedding in Greece, our team will
do everything possible to make your stay unforgettable.
- HIRE A DESTINATION WEDDING DJ IN GREECE -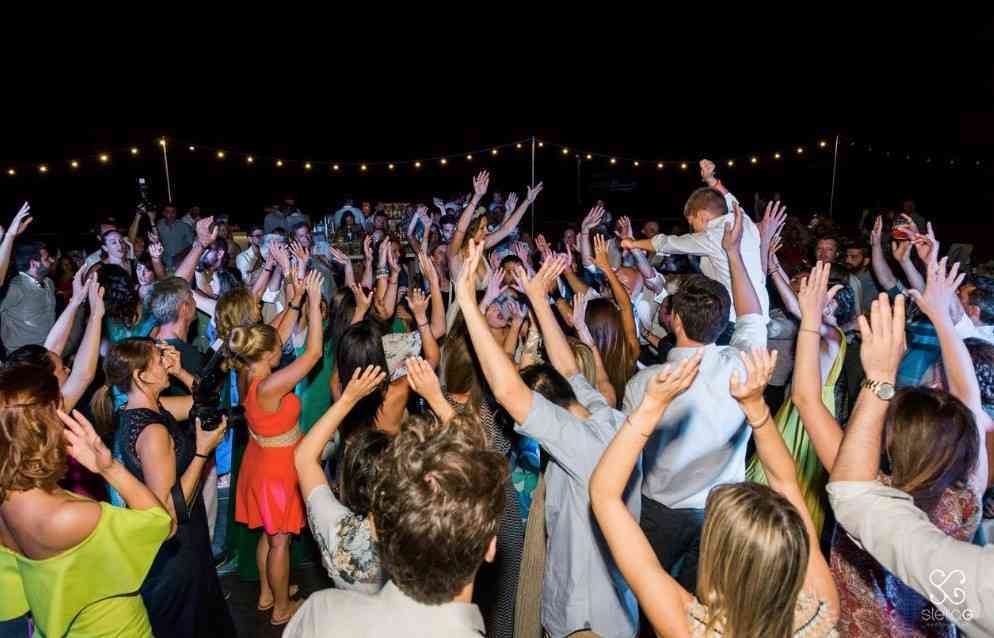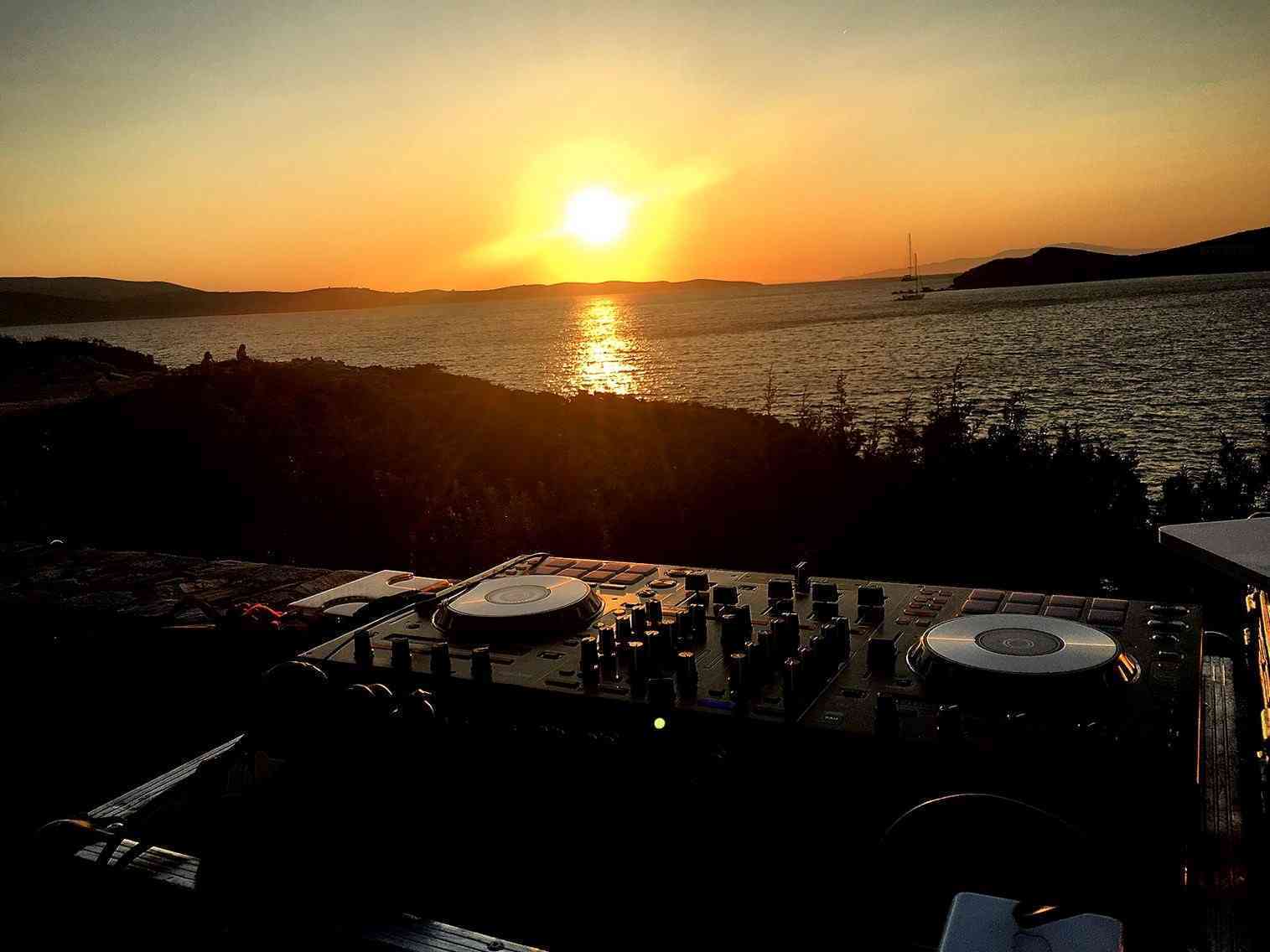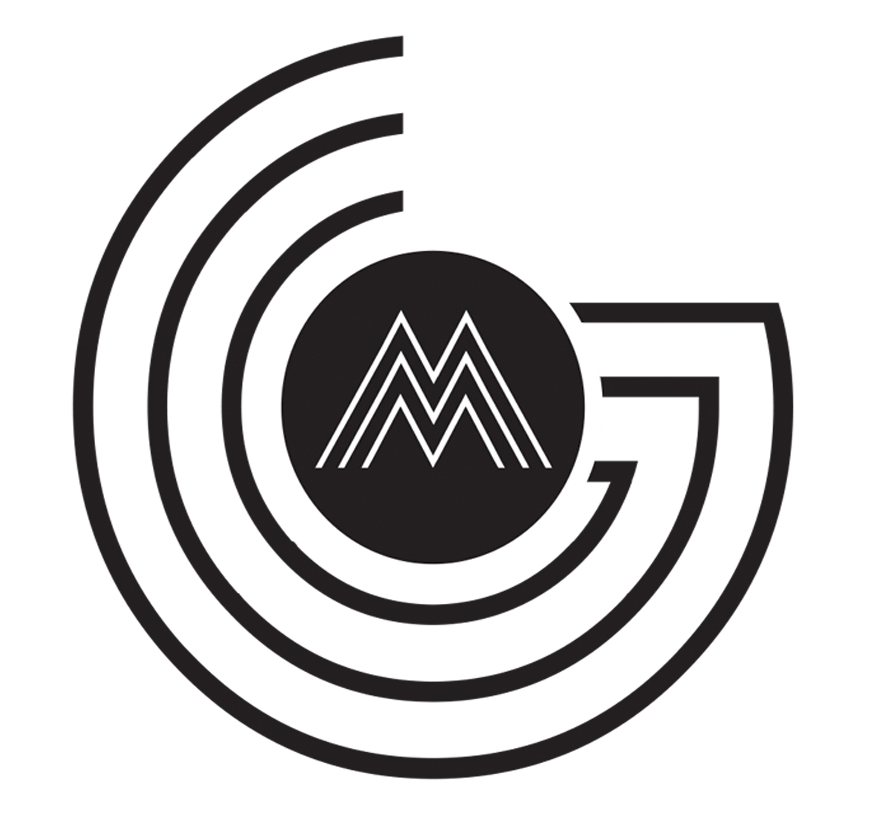 - LOCATIONS WE SERVE -
MYKONOS – SANTORINI - SIFNOS – SERIFOS - FOLEGANDROS – MILOS - PAROS –
ANTIPAROS - NAXOS - KOUFONISSIA – AMORGOS - ANDROS – TINOS - SYROS
– RHODES - CRETE - CORFU - LEFKADA - KEFALLONIA - ZAKYNTHOS (ZANTE) –
KYTHNOS - MONAMVASIA - YDRA - POROS - SPETSES - PORTOHELI - SKIATHOS –
SKOPELOS – ALONNISOS – PELION
We guarantee your wedding party experience everywhere....
If you are considering hiring a dj from our talented crew the following probably applies to your needs..
You are looking for a wedding dj in Greece who will respect your tastes,
while also working with you to create a music playlist that will make every guest want to dance
You absolutely want your dance floor to be packed the entire night...... 100% Guaranteed
You want a wedding dj who is professional and polished, but also fun, positive and down to earth
You want your wedding dj to be accessible via email and cell phone throughout your planning process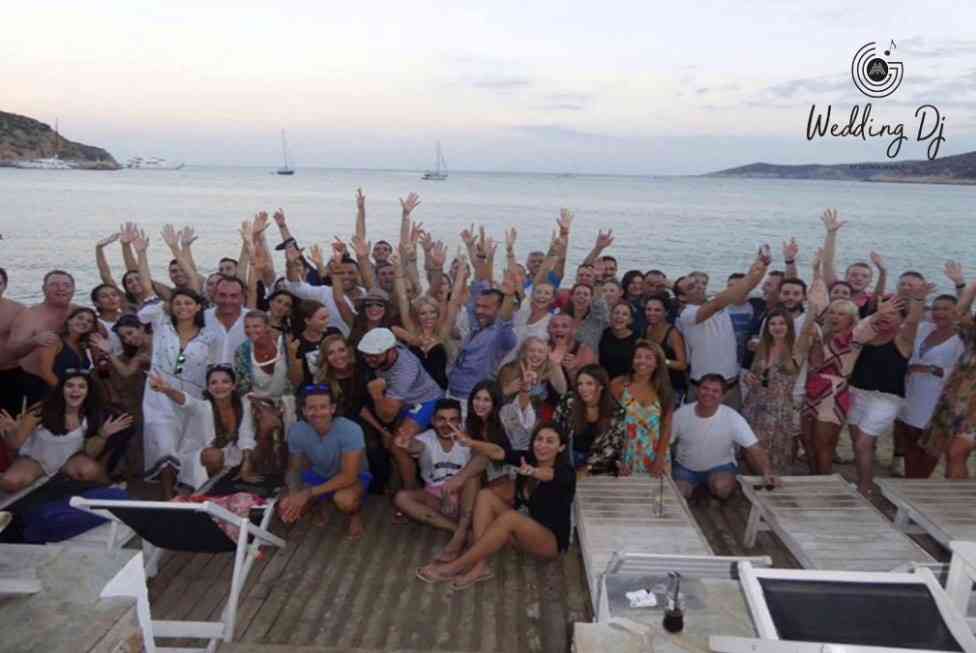 This is how we end our Parties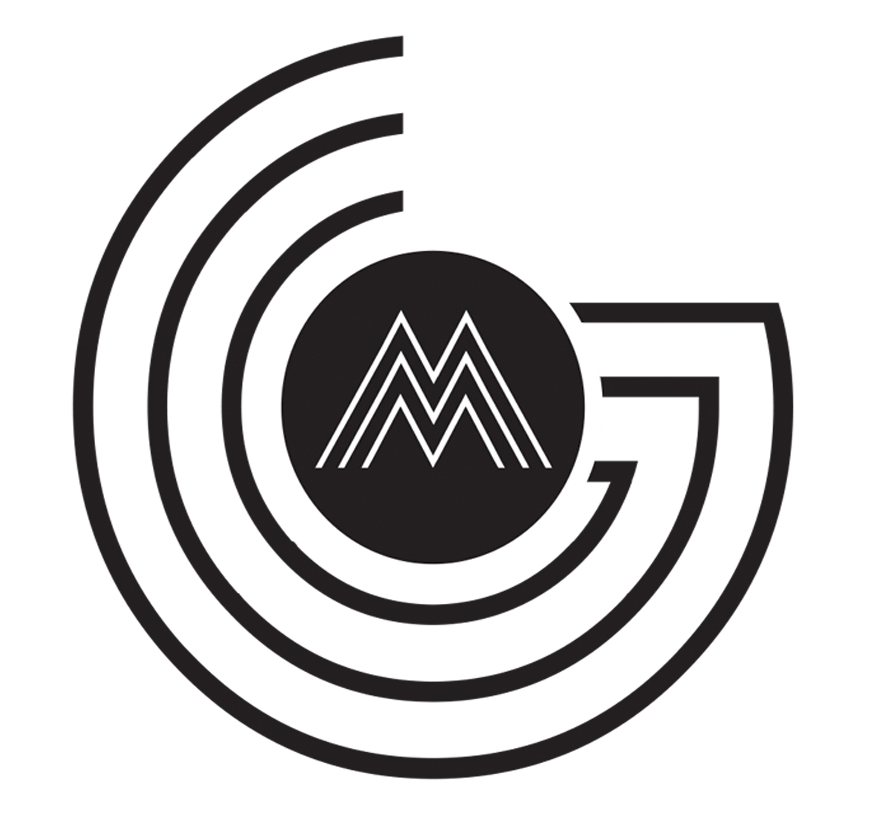 - WHAT WE OFFER -
Our main service are Wedding dj sets but we are also proud to offer the following
services for your wedding in order to offer you a complete entertainment experience.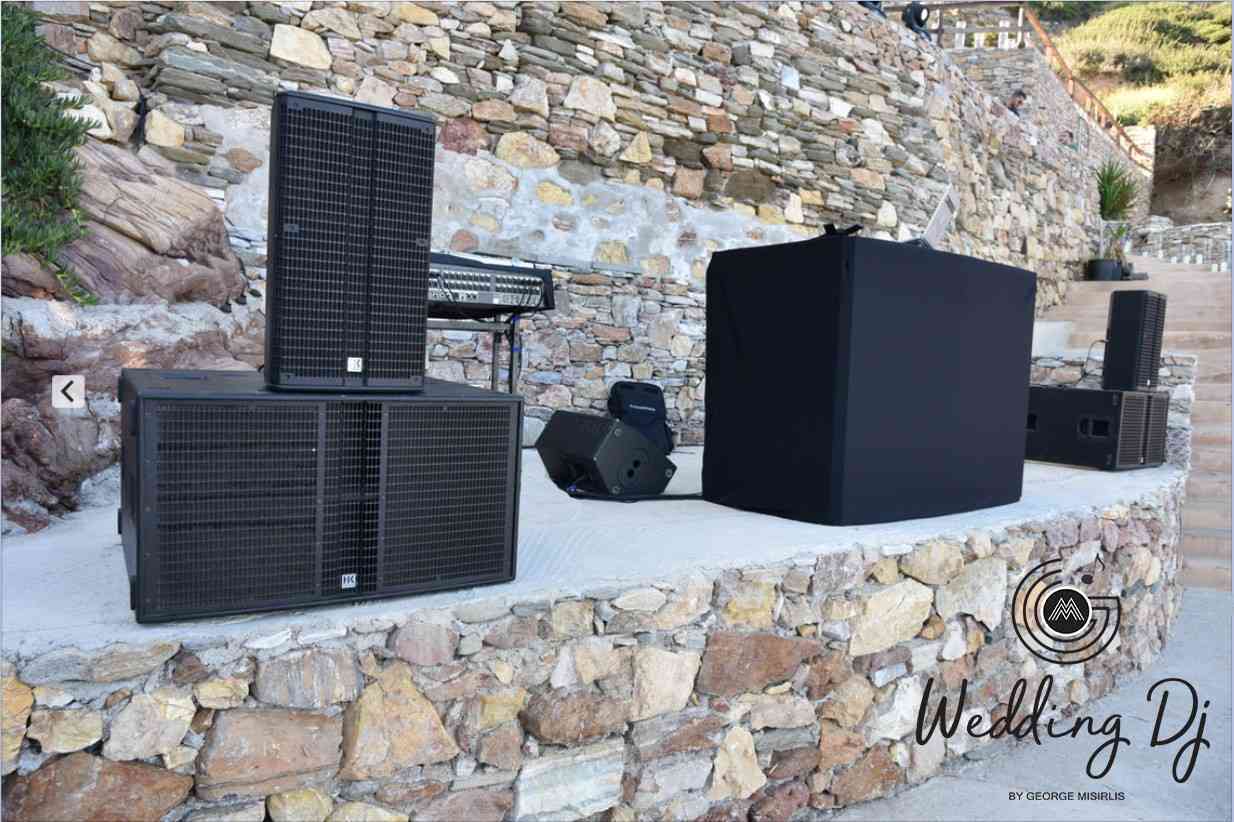 Tags: Wedding dj | Destination wedding dj service | hire a wedding dj in Greece |
Cost of wedding Dj in Greece | dj Missirlis Giorgio | Love for weddings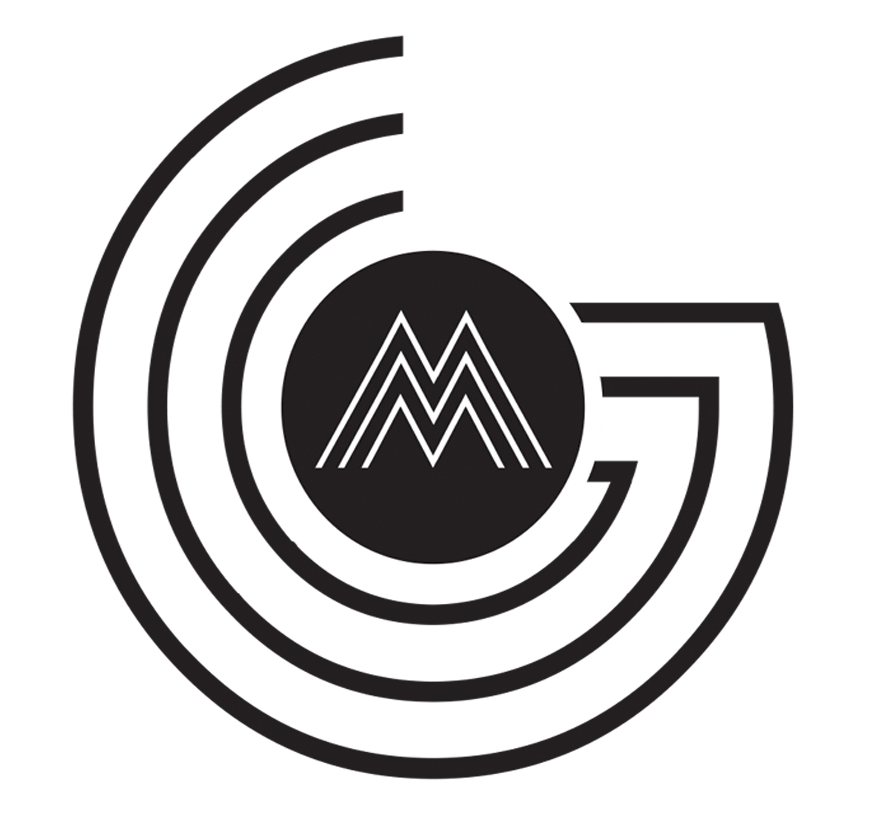 PEOPLE WE SERVE
Giorgio and his Dj team can cover any type of music fluently.....
Their secret to success is that They are all active club - bar Djs
WHY THIS.... IS VERY IMPORTANT TO YOU
This information is very important to you because it means that they live the pulse of the every day fun and will carry it to your own wedding party in the best and most reliable way.
A dj who plays only at Weddings could not follow the evolution of the
entertainment in such a direct way because as you can easily understand the
party people around the Clubs guide us on which songs will become part of the
next Top Music Chart.
So no matter where are you from.... we are here to play for
ENGLISH WEDDINGS – CYPRIOT WEDDINGS - LEBANESE WEDDINGS – FRENCH WEDDINGS –
ITALIAN WEDDINGS – AUSTRALIAN WEDDINGS – INDIAN WEDDINGS –
USA WEDDINGS – EGYPTIAN WEDDINGS – RUSSIAN WEDDINGS – POLISH WEDDINGS –
GREEK WEDDINGS and many many more.........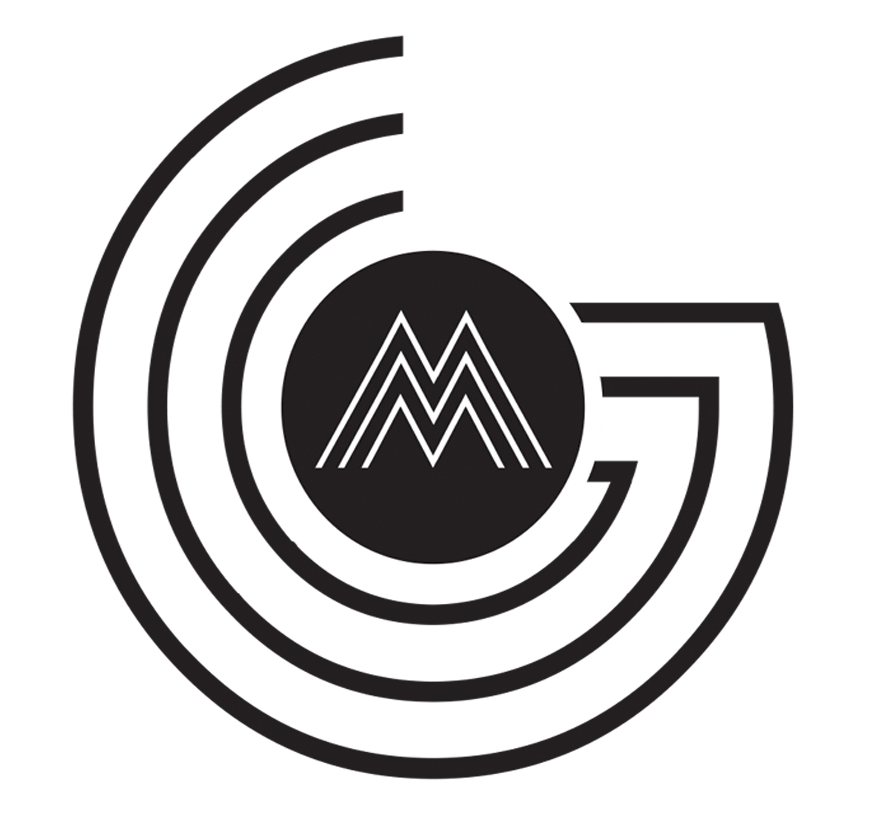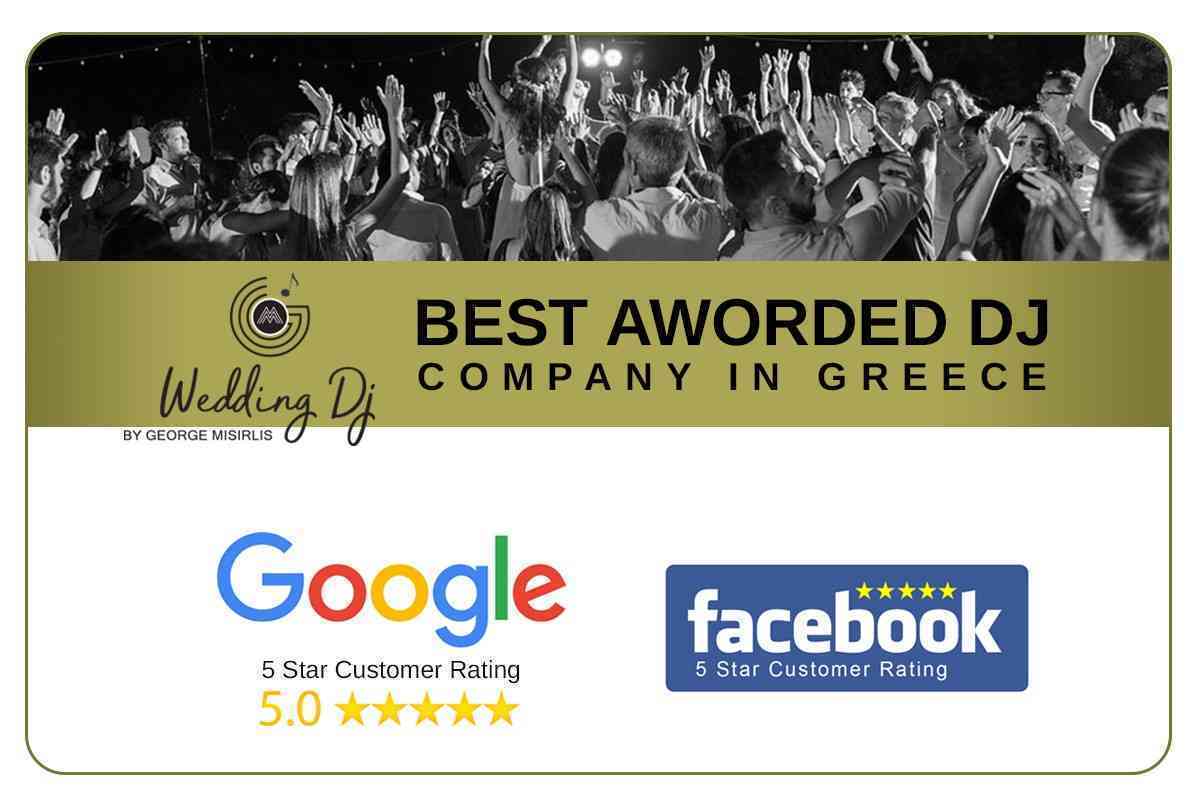 GOOGLE TESTIMONIALS
–
FACEBOOK TESTIMONIALS
SO MANY CUSTOMERS .... SO MANY NEW FRIENDS AROUND THE WORLD
You can trast our previous customers experience about our Job. You will realise that we will treat you as you deserve..... and
Our clients deserve our 100% performance and attention.
We will make you glad you choose us for your destination wedding in Greece,
and your experience with our team will be outstanding from beginning to end…
LUCIE FOUNTAIN (UK) (FROM SANTORINI BRIDES)
Destination Wedding Party in Santorini – SANTO WINERY | Services Provided :
Wedding dj and Full entertainment package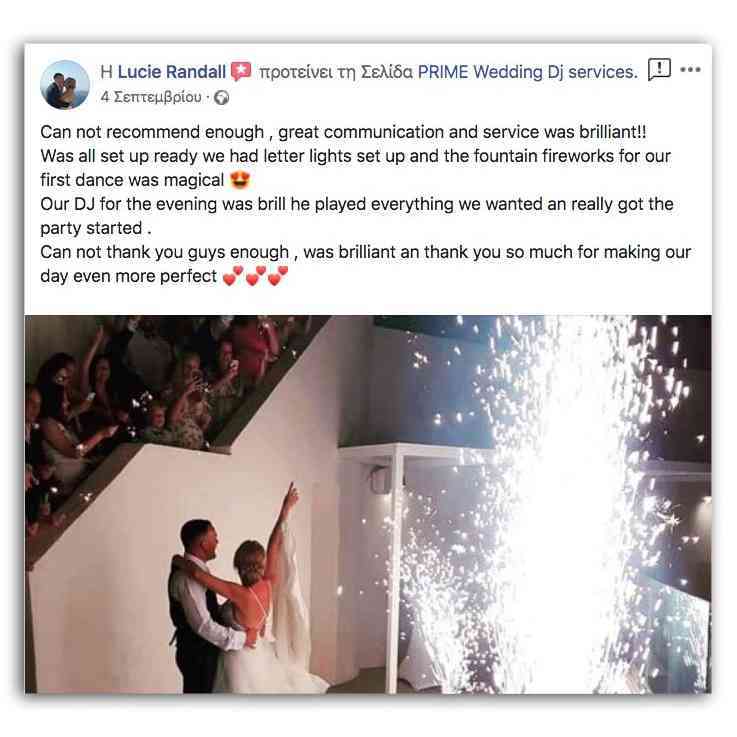 MYRTO KOGEVINA (GR)
Destination Wedding Party in Sifnos
Services provided : Full Wedding dj entertainment Package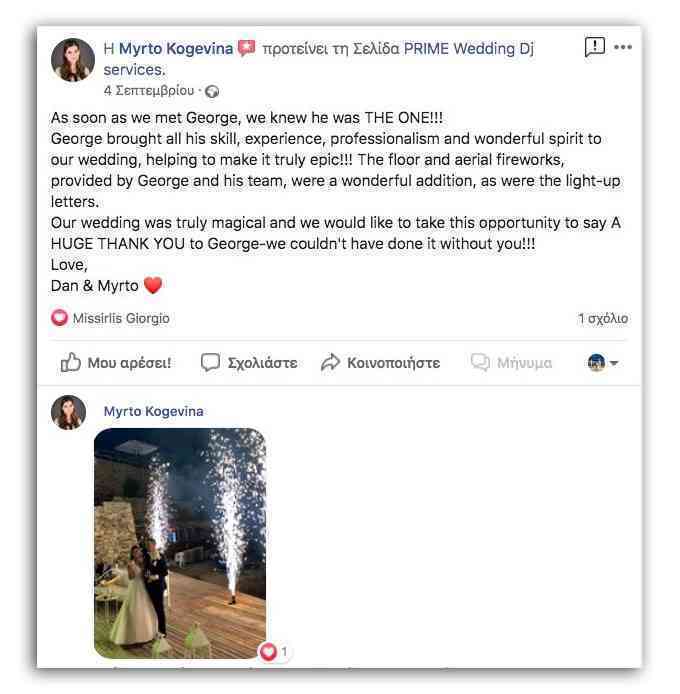 STEPHANIE McATEAR (UK) (FROM SANTORINI BRIDES)
Destination wedding in Santorini - LE CIEL
Services Provided : Stage Fountains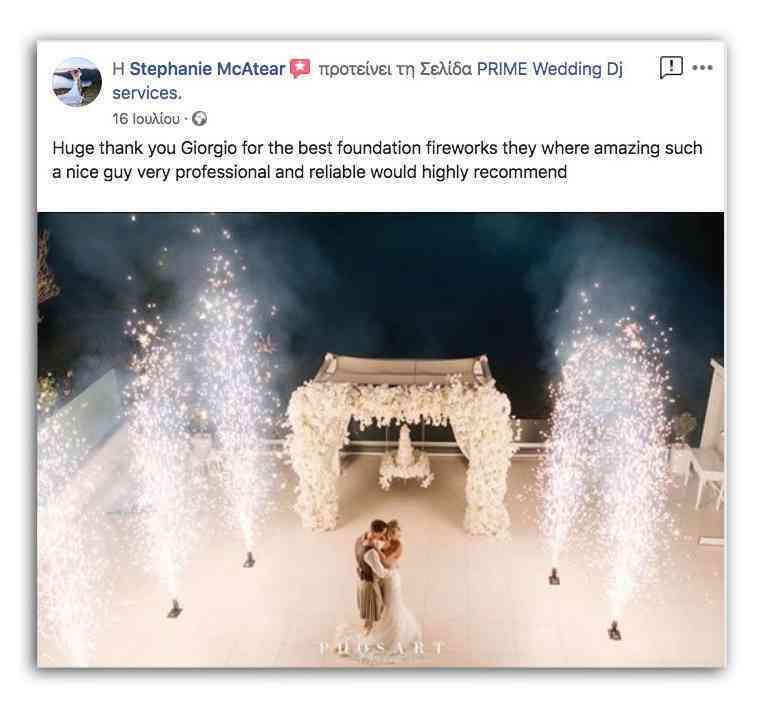 CHARLIE ANDREWS (UK) (FROM SANTORINI BRIDES)
Destination Wedding in Santorini
Services Provided : A full entertainment package – Wedding dj By Giorgio Missirlis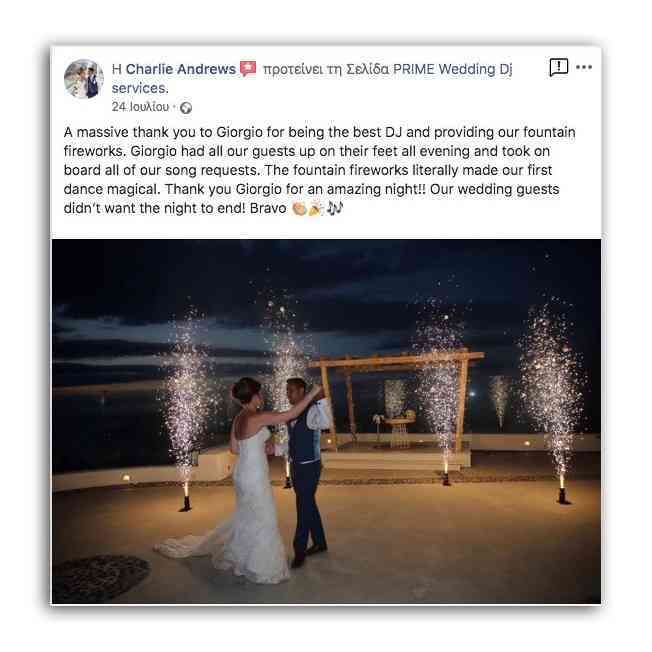 KONSTANTINA KOMODROMOU (CYPRUS)
(Recommendation From Anthony Mozora photographer) – Destination Wedding in Karpathos
Services Provided : Wedding Dj by Giorgio Missirlis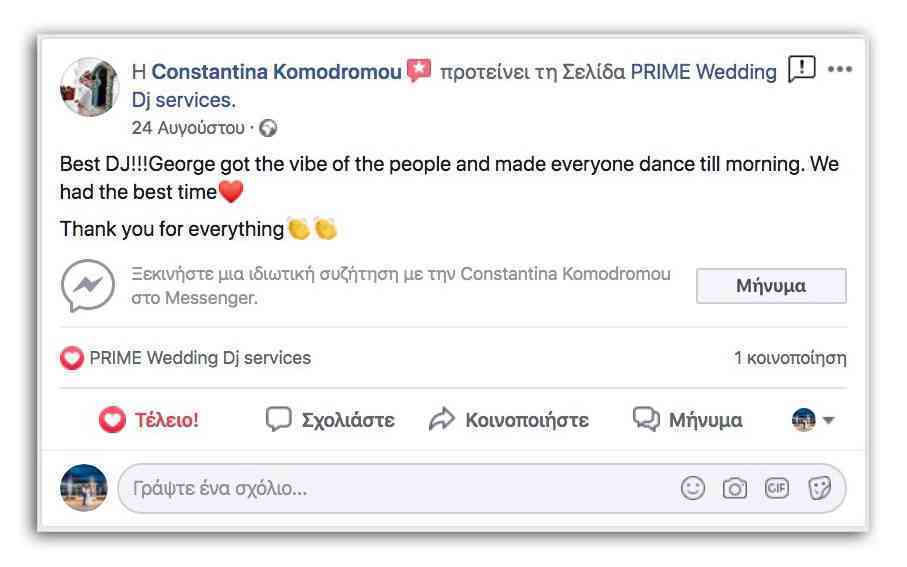 NEVILLE & ANNA MARIA VOSS (AUSTRALIA) (FROM GOOGLE SEARCH)
Destination Wedding in Poros island – Hotel Blue Sirene
Services Provided : A full wedding dj entertainment package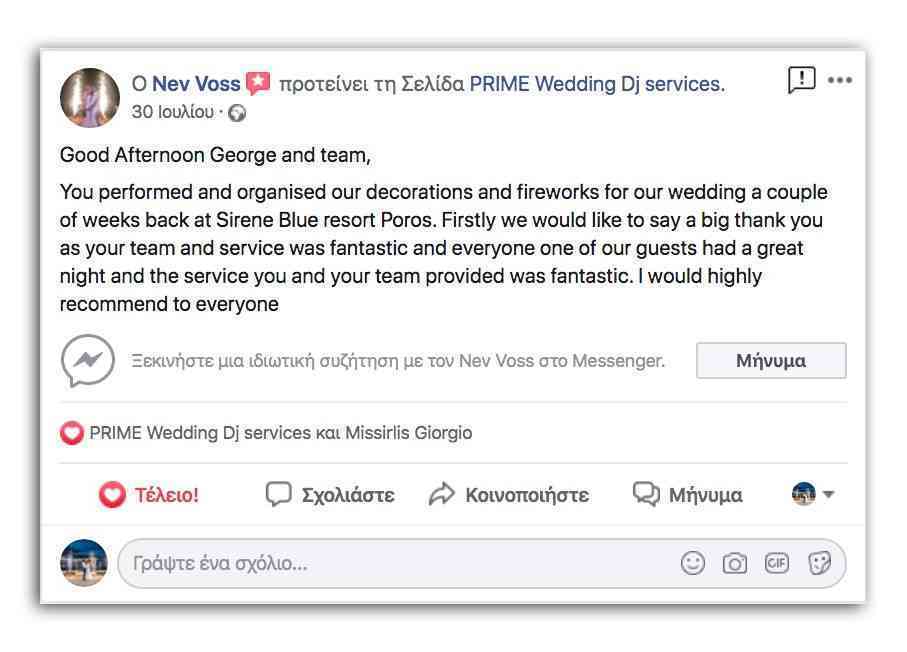 VASSILIKI BABANIOTI (GREECE) (Recommendation from past clients)
Destination Wedding in Cape Sounio Grecotel group
Services Provided : A full wedding dj entertainment package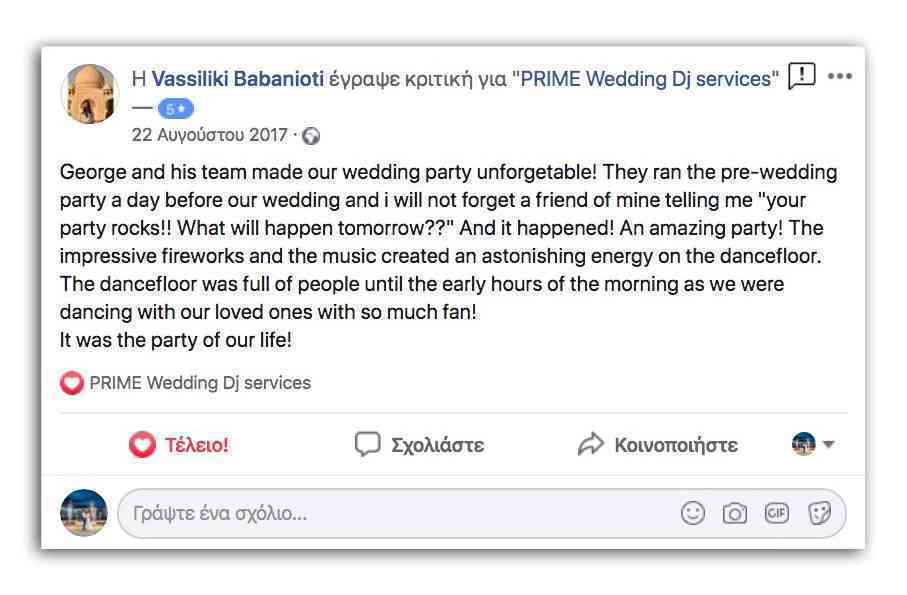 CONSTANCE PAPACHRISTOU (AUSTRALIA) (Recommendation from Wedding Planner Ronia Anastasiadou)
Destination Wedding Dj in Sifnos – Elies Resort
Services Provided : A full Wedding Dj entertainment package