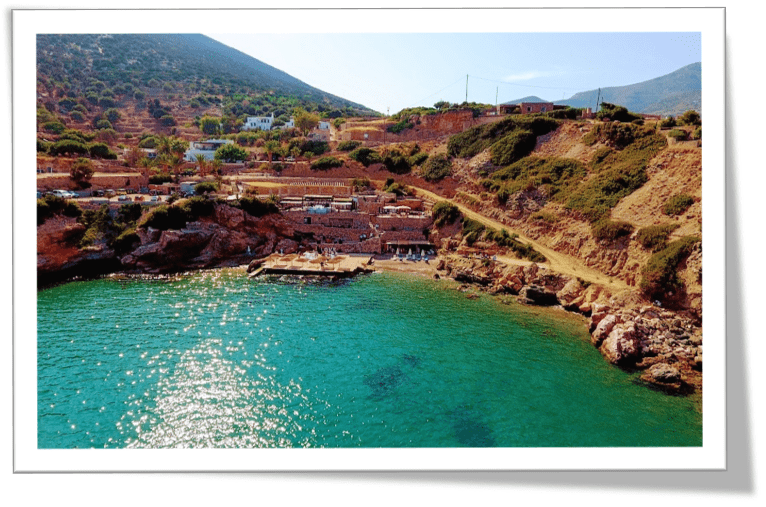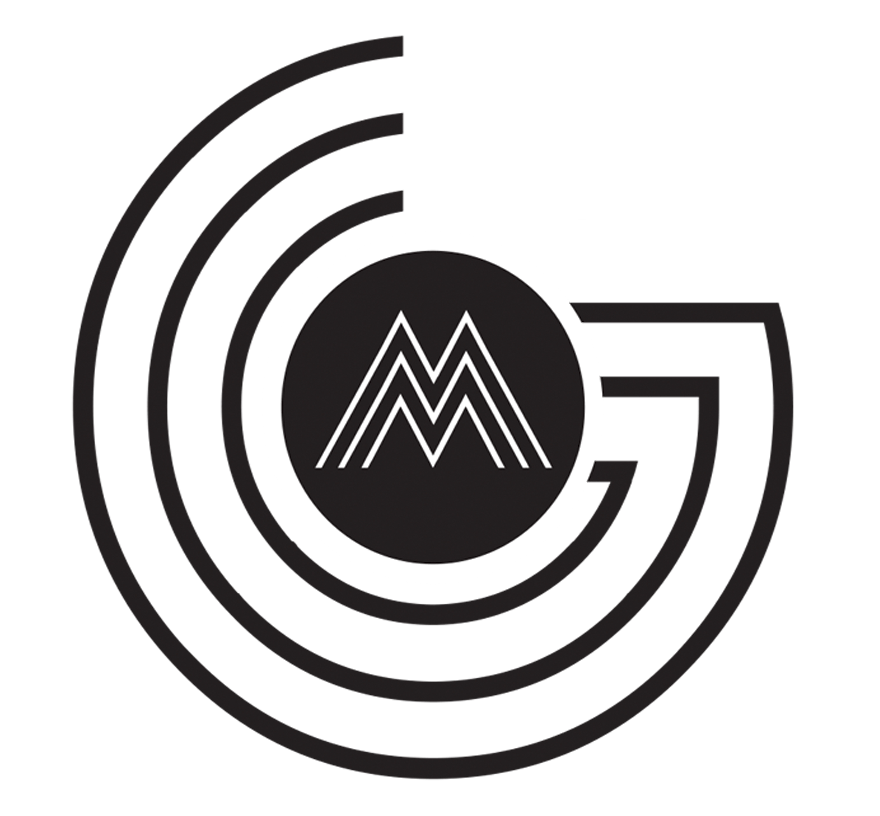 LAZAROU BEACH VENUE – SIFNOS CYCLADES
WHERE DREAMS COME TRUE
One of the Top destinations in Greece to have your Ceremony, your wedding reception and of course your wedding party that no one will ever forget…….
If you are planning to arrange your wedding party on the beautiful island of Sifnos then undoubtedly Lazarou beach Venue is one of the key choices in your search…. With its key advantage, its geographical location makes it possible for future married couples to have a dreamy wedding party on the waves by making use of the deck for their wedding ceremony, dance floor and even as a place for their entire party. .
Our company Missirlis Giorgio - Wedding Entrtainment is an exclusive partner of Lazarou Beach in the field of audiovisual and entertainment, and in addition to the TOP Wedding DJ service that will provide you with the most reliable solutions in sound systems and lighting.
We also offer a range of services such as FIREWORKS, ILLUMINATED LETTERS , DECORATIVE LIGHTS, FAIRY LIGHTS, VIDEO PROJECTORS with screens, Power Generators and many more services that you will need for a succesful wedding.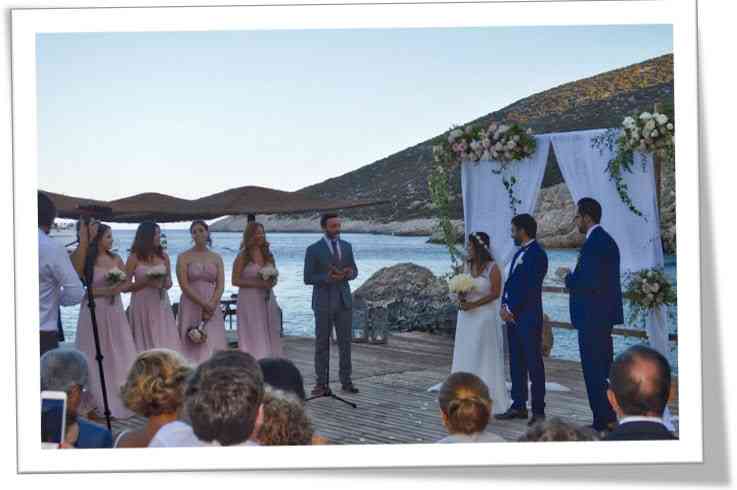 Wedding Ceremony at the Deck Venue of Lazarou Beach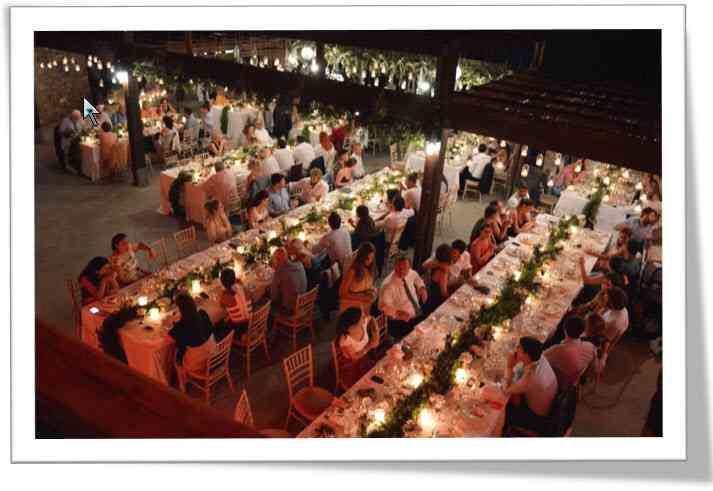 RECEPTION'S AREA – RESTAURANT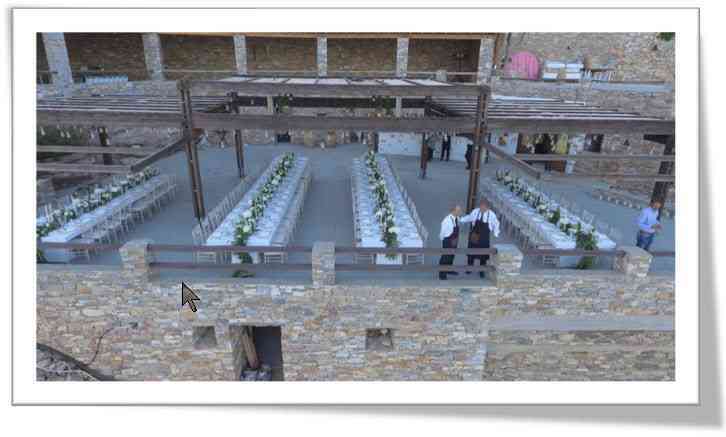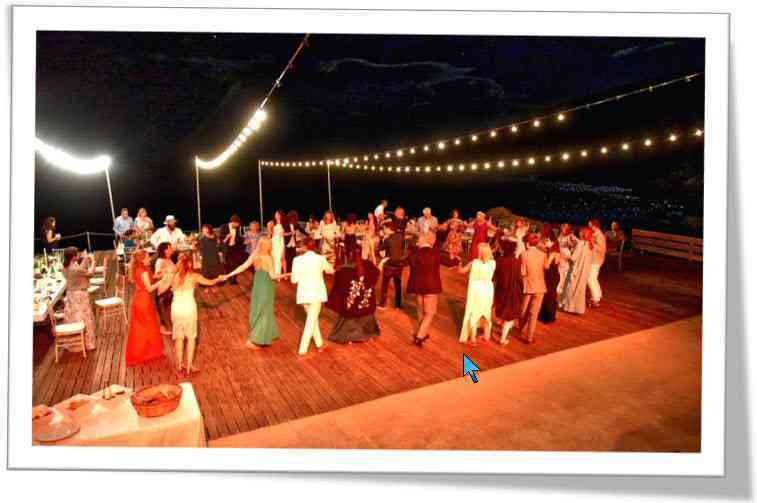 Wooden deck can be used at the same time as a reception area and a lounge area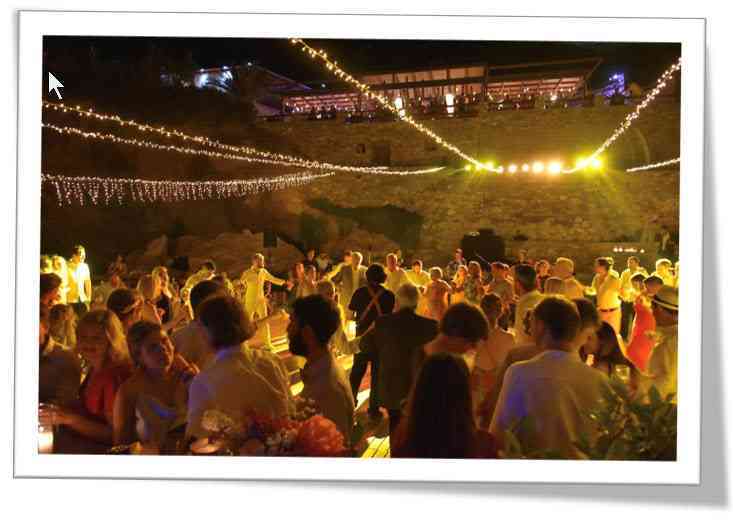 Wedding party with 200 guests. Deck are used only for dance floor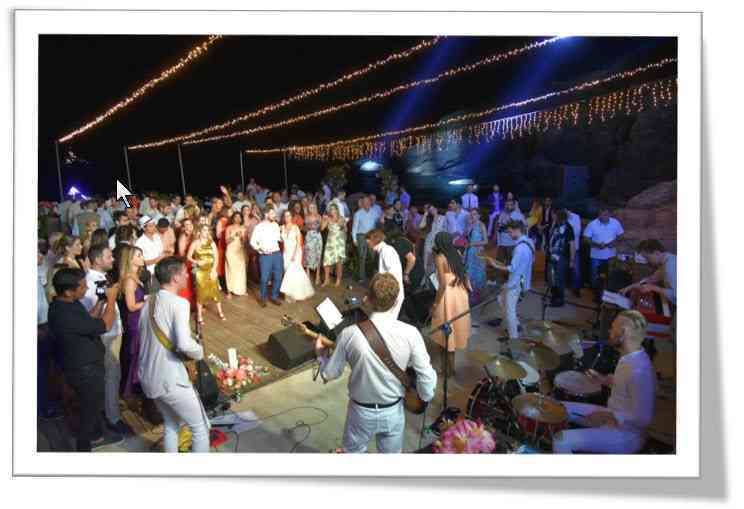 Unique Location protected from winds and covered reception area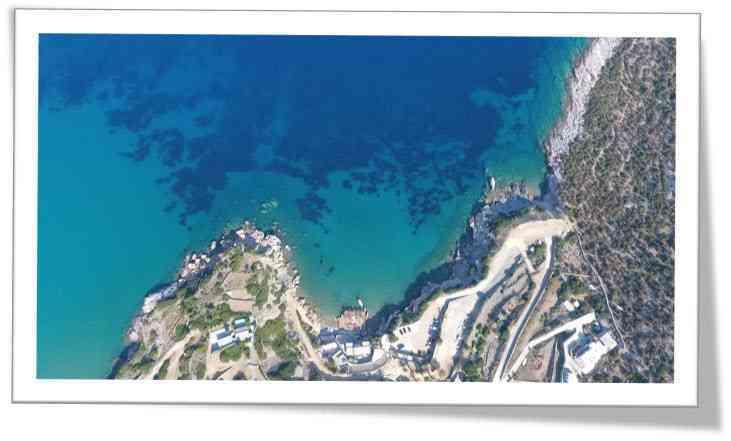 The Wind protected bay of Lazarou Beach
In this beautiful bay of Lazarou Beach Venue you will never be bothered by the Cycladic wind as the spot is completely no windy, very important for decorating the space and for the whole procedure in general. In case the weather is rainy, there is a covered area that can accommodate up to 200 people without any problems.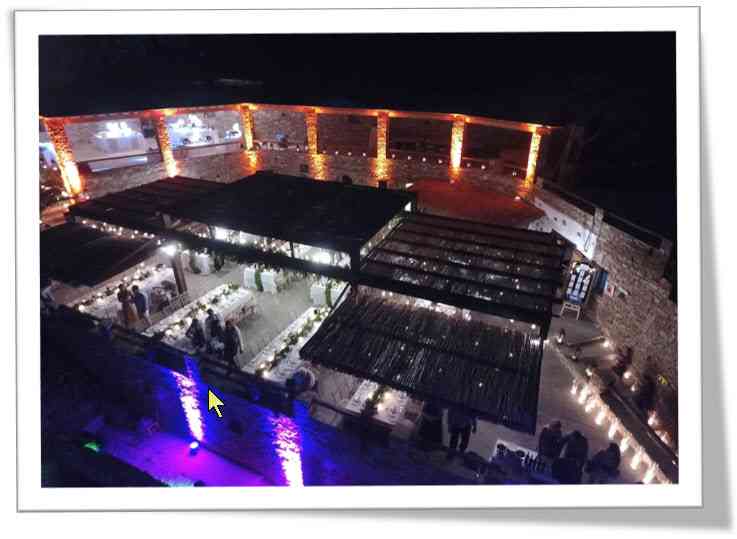 At the Photo above you can see the covered area of 250 people while at the bottom is the main reception area.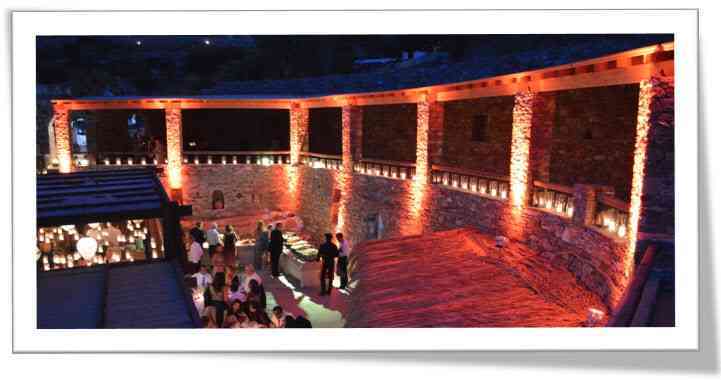 The covered reception area at Lazarou Beach Venue
Loud music until the Sunrise……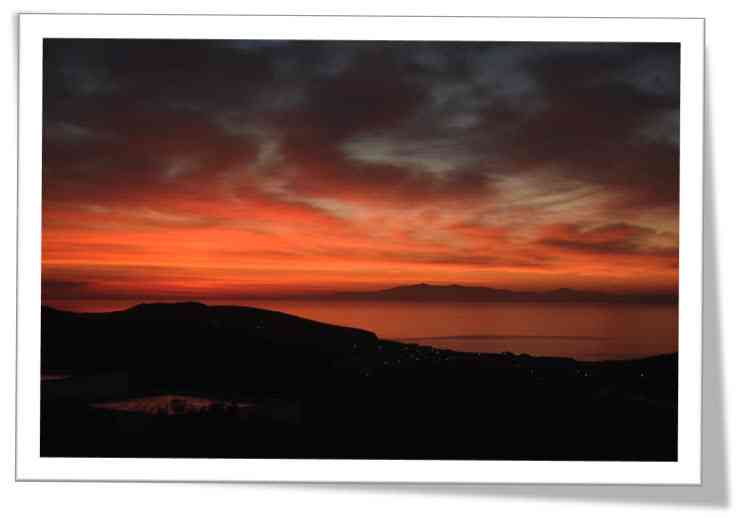 Sunrise at Lazarou beach in Sifnos....... What our customers and their guets see at the end of their wedding party in every single wedding......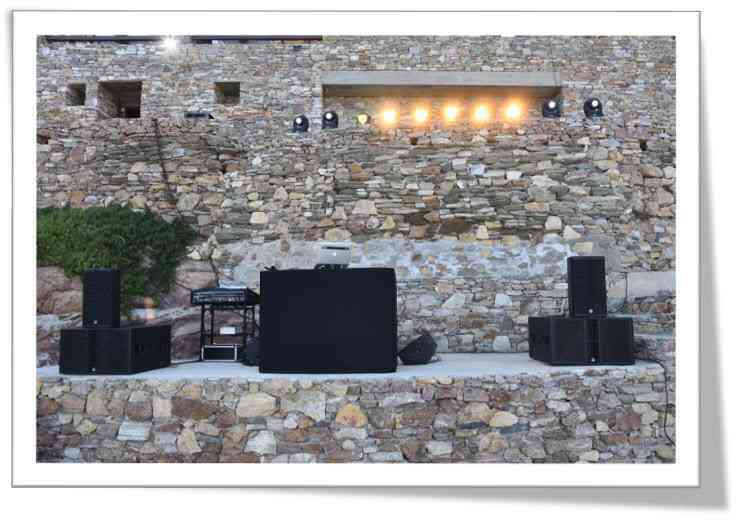 TRUST OUR PROFESSIONAL DJ TEAM – BOOK YOUR WEDDING PARTY WITH US
....and We will make you feel glad for your choice !!!!!
One of the major advantages of Lazarou Beach is that there is absolutely no limit to the volume and noise pollution in general ...... a problem that occupies 90% of reception venues across Greece and all of Sifnos' wedding venues. Which for most venues is a problem for us here at Lazarou Beach Venue is an asset .... so your wedding party will last until the morning as decibels will hit loudly without any restrictions…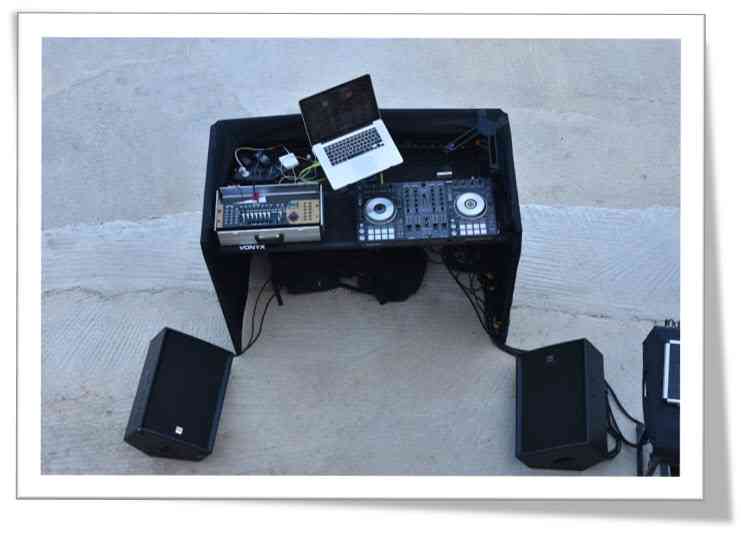 Professional Sound Sytem HK (GERMANY) provided from our Company for the best music quality at Lazarou Beach !!!
The right way to illuminate a reception area is a very important event for the entire reception.
Our company provides all kinds of lighting in the area of Lazarou Beach, covering both the needs of the dance floor lighting lighting and the surround decorative lighting.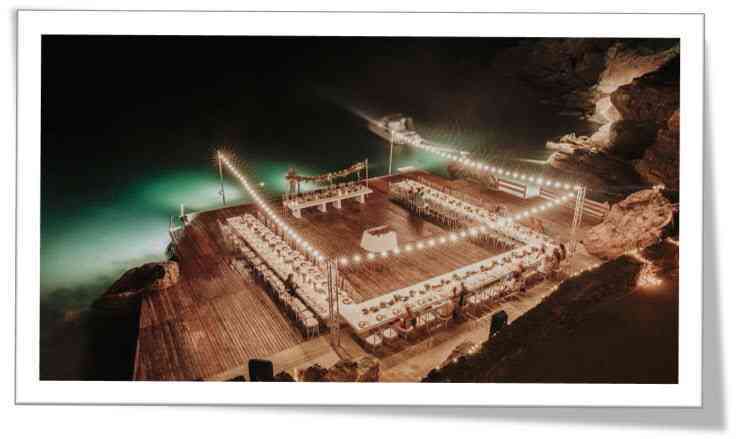 PATIO LIGHTS AT LAZAROU BEACH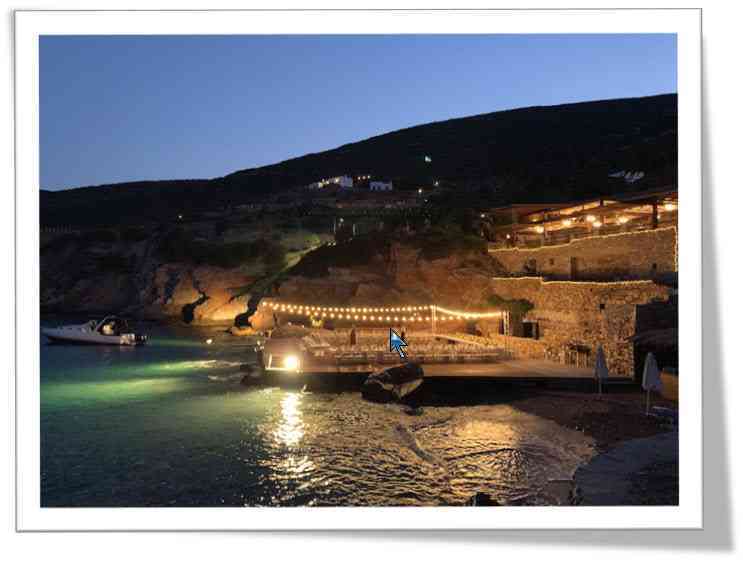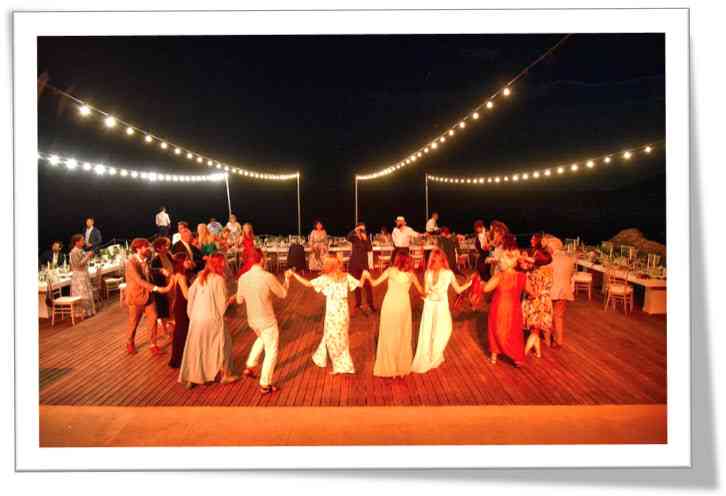 SEA LIGHTS AROUND THE DECK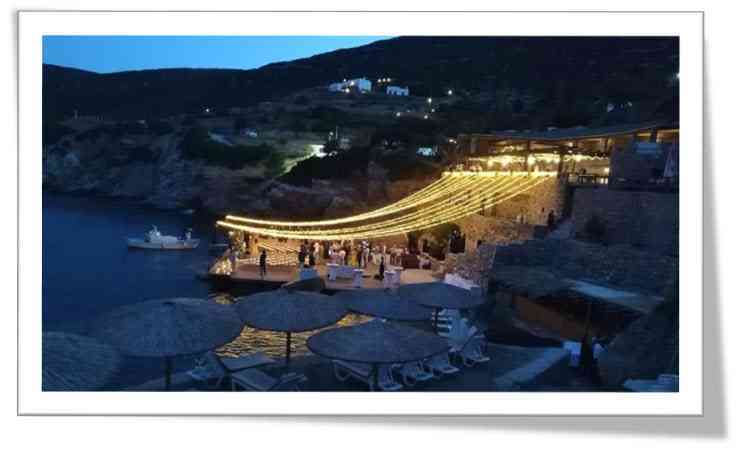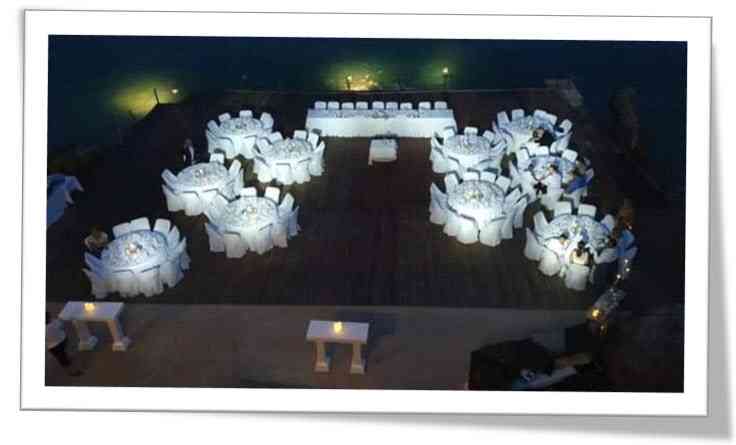 Fairy lights at Lazarou Beach Venue
Pinspot table lighting - Centerpiece lighting at Lazarou Beach Venue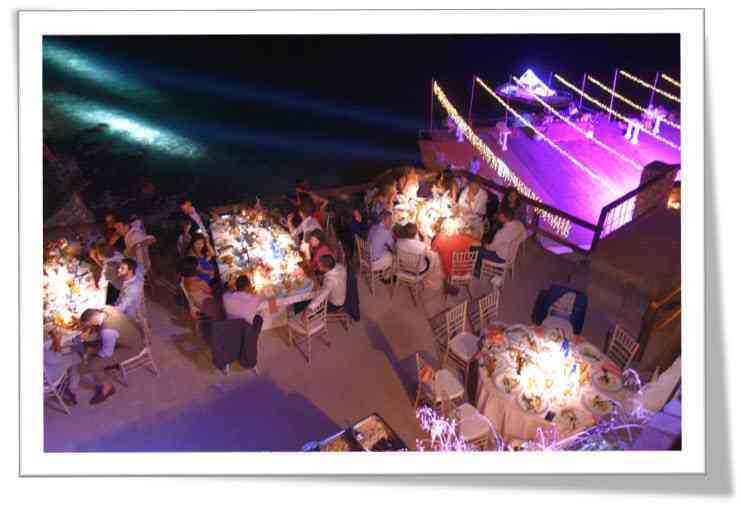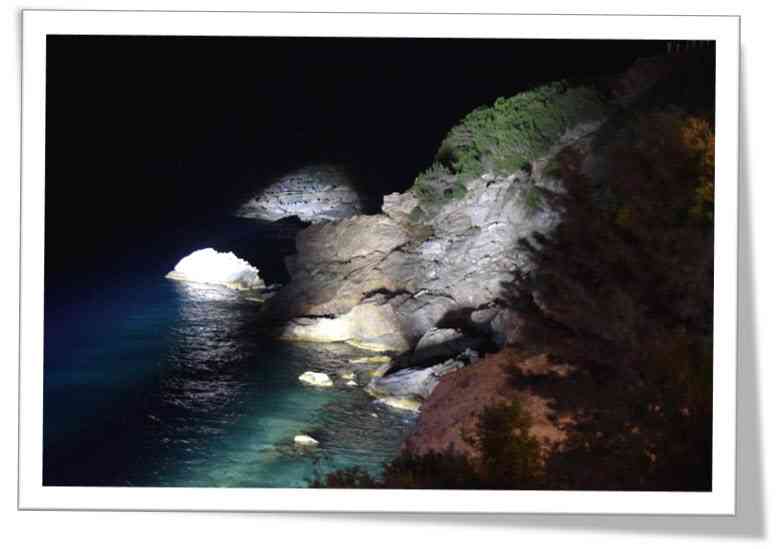 LIGHTING the Rocks with Beam tecnology moving Heads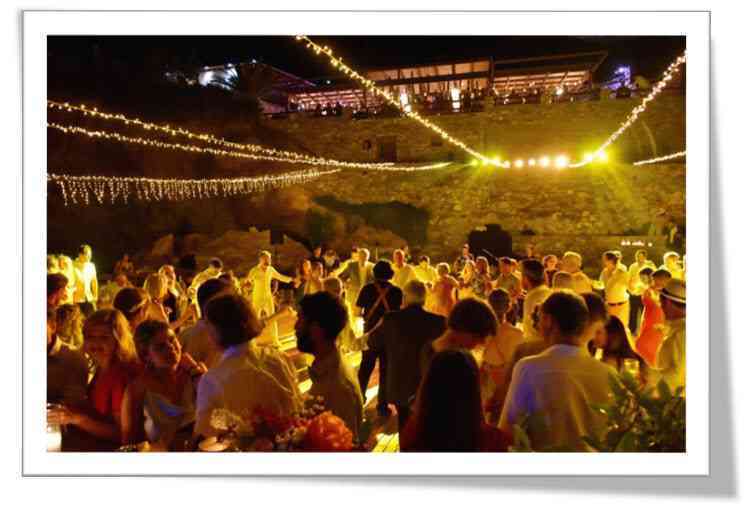 Dance floor lighting with professional Lights and Light Jockey
4 beam tecnology moving Heads and 6 led PAR lights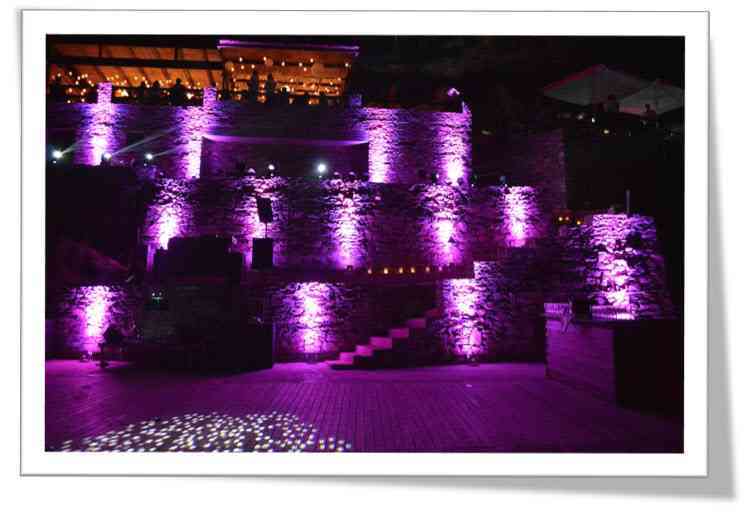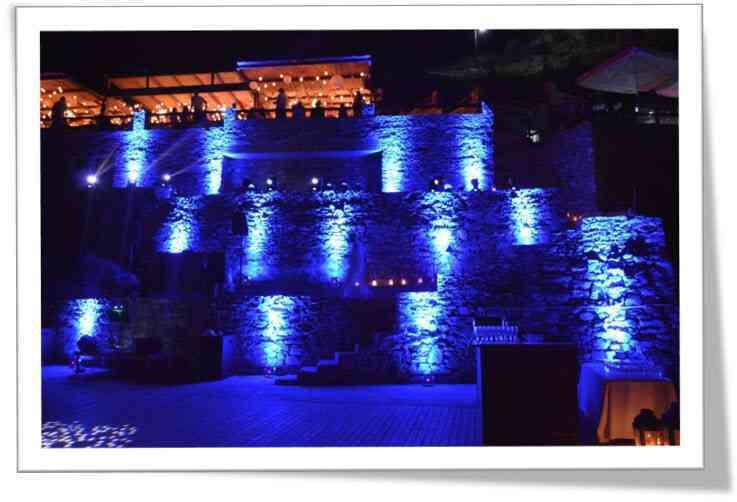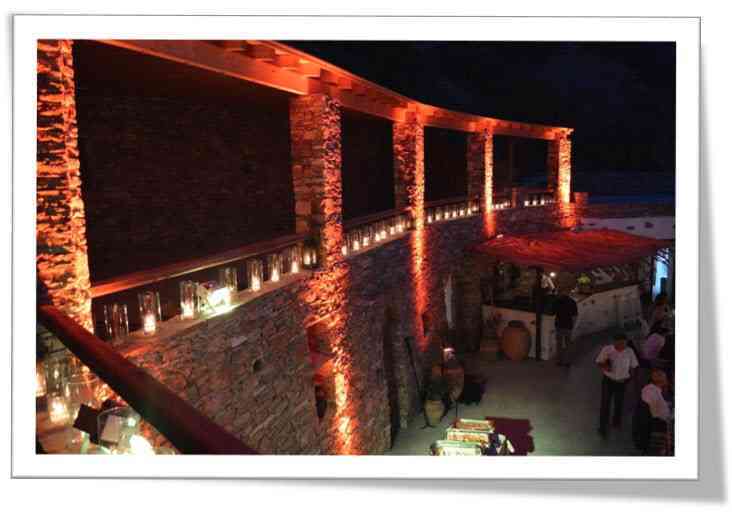 Uplighting at Lazarou Beach Venue
Wedding Fireworks – Marquee
Illuminated Letters – Special Effects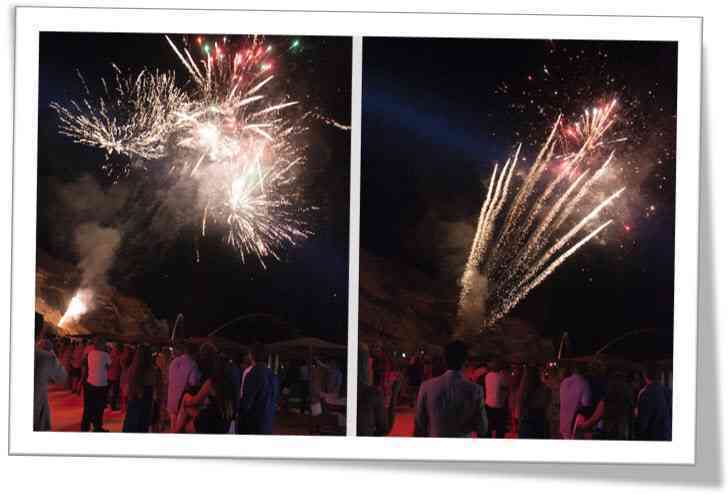 Aerial Fireworks display at LAZAROU BEACH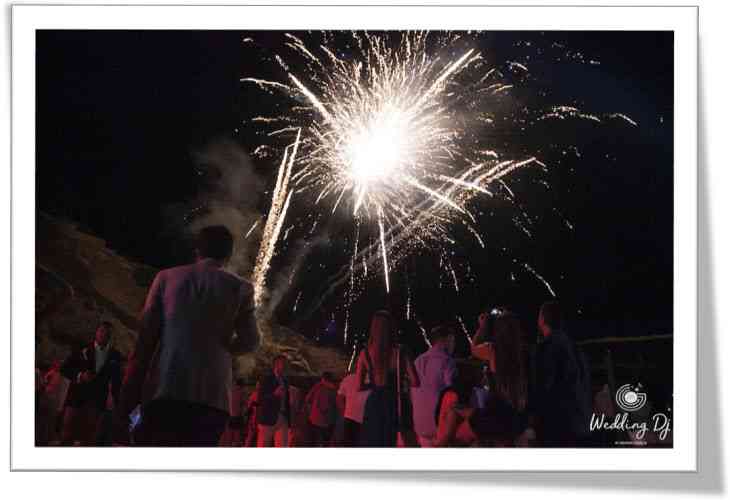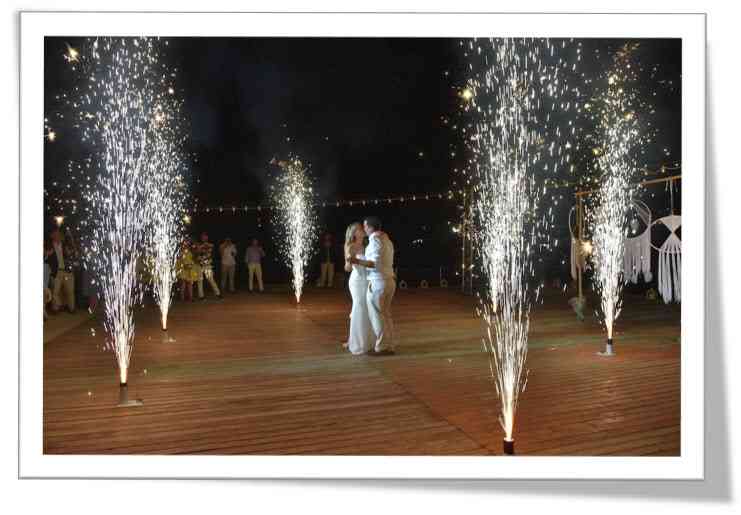 Stage fountain fireworks at Lazarou BEACH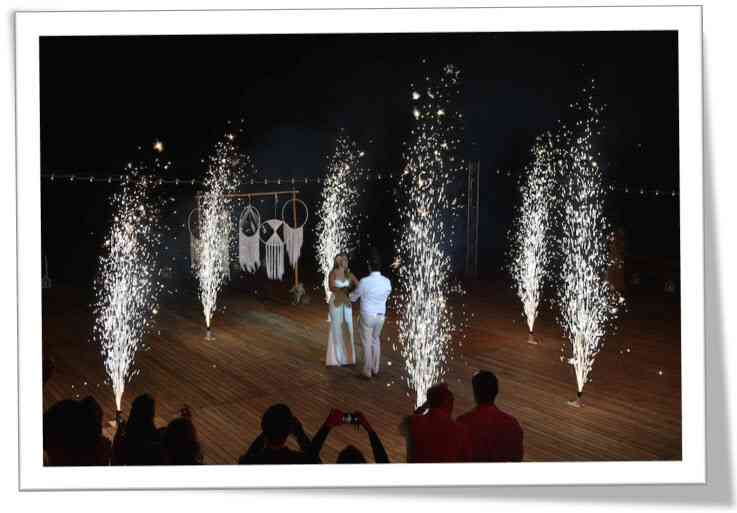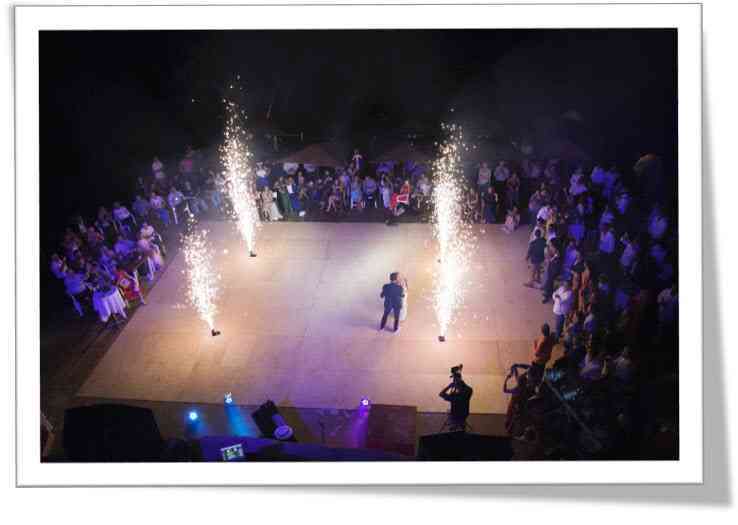 Stage Fountains and portable dance floor installation on Deck Area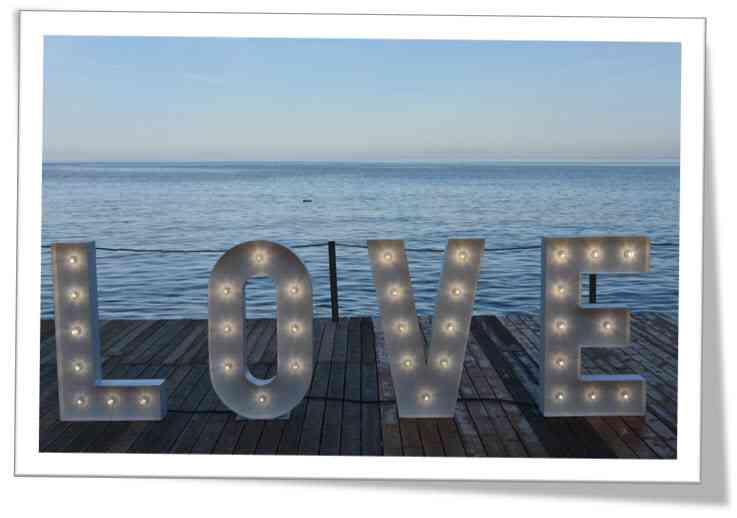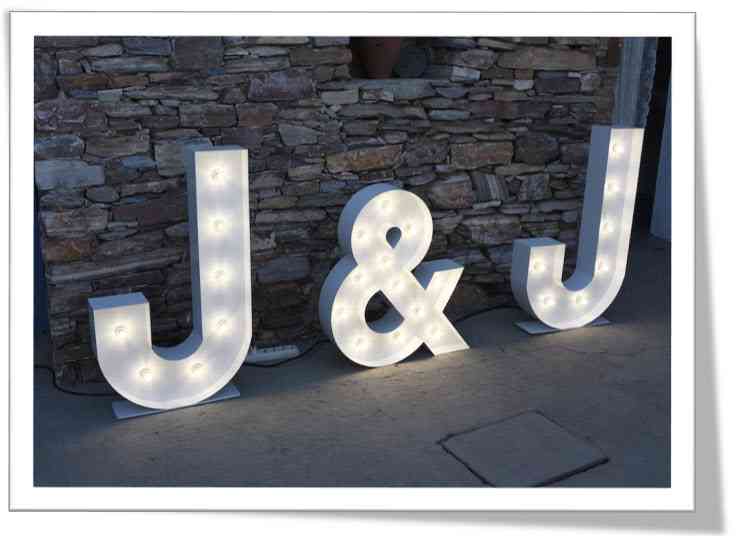 MARQUEE ILLUMINATED LETTERS
USEFUL INFORMATIONS
Bridal suite & Rooms to let
Lazarou Beach has rooms to rent that can accommodate you, your family and any friendly and family-friendly, offering all comforts such as comfortable and spotless rooms, breakfast and a rich menu in the restaurant. The honeymoon room will be available free of charge for the wedding night as it is very important for the couple to be able to have immediate and close access to their accommodation during the event for the necessary refreshment. A suite room will be in operation by summer 2019.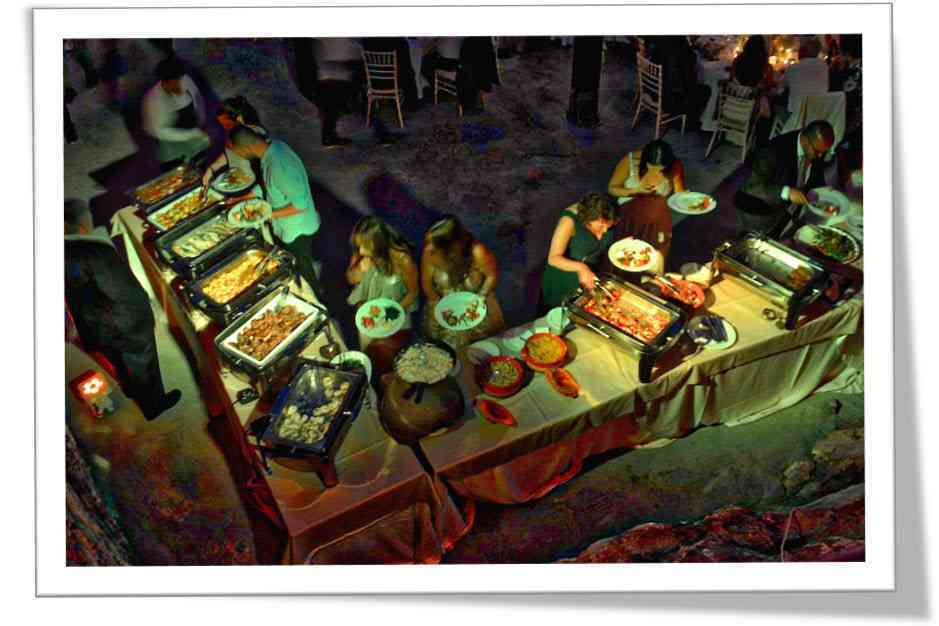 The restaurant at the Lazarou beach Venue has a catering service that caters to the needs of the business. Enjoy our unique menu curated by well-known chefs in Athens combining Gourmet cuisine and local recipes. Your guests will be amazed at the quality of our services and in combination with the fantastic scenery they will enjoy, will forever remember your wedding night ........
WEDDING PLANNING - DECORATION
At Lazarou beach venue we can arrange your wedding with our selected wedding planner partners who know the reception area very well and will advise you on the best decorating and organizing options in general, as well as undertaking all the procedures for your wedding. issue of certificates and documents by local authorities and churches.
Are you interested in our services?
Want to design your dream wedding party together and have all your guests talk about your wedding in the coming years?
Send us your details and services you are interested in and we will contact you for a more detailed presentation of our services as well as a first cost estimate.